BeIN Sports covers French LNV with Blackmagic URSA Broadcast G2

Varias cámaras

Blackmagic

URSA Broadcast G2 y el mezclador ATEM Constellation 8K fueron desplegadas por

Art'istic Production

para producir la cobertura de la Liga Nacional de Voleibol (LNV) francesa para

beIN Sports

.

Una vez que Art'istic Production recibió el encargo de beIN Sports de cubrir en directo uno de los partidos de la LNV de Voleibol, la compañía de servicios de producción valoró en detalle el tipo de equipamiento a desplegar. Finalmente, se decantó por el modelo Blackmagic URSA Broadcast G2, que le permitió satisfacer diversos requisitos de producción, incluso al movilizar operadores de cámara antes, durante y después del evento. Arthur Brousmiche, fundador de Art'istic Production, aporta más detalles: "Desde el principio, Blackmagic Design surgió como la opción técnica ideal para cubrir nuestras necesidades de equipamiento en la sala de control y de cámaras. Sabemos que es una marca que ofrece un desempeño excepcional a un precio razonable".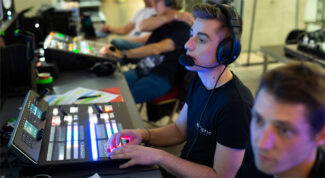 Art'istic Production desplegó tres unidades URSA Broadcast G2, que se emplearon, por ejemplo, montadas al hombro para registrar planos desde la cancha, y se combinaron con el modelo Blackmagic Studio Camera 4K Pro, el cual se encargó de la señal máster. Desde estas ubicaciones, remarca Brousmiche, "podemos obtener tomas del entrenador hablando con el equipo en el tiempo fuera, además de primeros planos de los movimientos en la cancha y del público". Dado que el torneo se desarrolla en diversas localizaciones de Francia, los recintos deportivos pueden diferir en gran medida, por lo que para la productora el principal desafío era, simplemente, conseguir imágenes nítidas: "Me gusta el rendimiento de esta cámara en condiciones de escasa luminosidad, algo que pude comprobar una y otra vez en una multitud de espacios deportivos, muchos de ellos gimnasios municipales. La calidad de imagen es excelente y es posible seleccionar frecuencias más altas".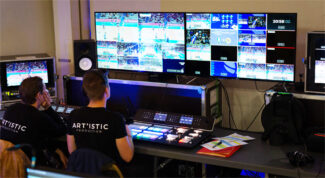 Las señales de las cámaras llegaron hasta el mezclador ATEM Constellation 8K mediante un cable Cat6a (Ethernet) que posteriormente fue convertido a SDI con una unidad Blackmagic Studio Converter. El sistema se completó con la unidad de control ATEM 2 M/E Advanced Panel: "Precisábamos invertir en un mezclador de rendimiento superior que diera a nuestro cliente plena confianza de nuestra capacidad de entregar trabajos de alta gama. Poder contar con herramientas de control de transiciones, supervisión e imágenes simultáneas a este precio es inaudito. Este mezclador tiene mucho que ofrecer", cuenta Brousmiche.
"Unos meses atrás, no habríamos sabido qué hacer ante un desafío tan complejo y emocionante. Gracias a Blackmagic Design, hemos podido lograr una dinámica de trabajo profesional de un rendimiento excepcional dentro de nuestro presupuesto", concluye el responsable de Art'istic Production sobre su proyecto para beIN Sports.
Did you like this article?
subscribe to our RSS feed and you will not miss anything.
Other articles on

Art'istic Production

, BeIN, Blackmagic