New version of Vizrt's Viz Content Pilot
Vizrt presentará en IBC'09 la versión 5.3 de su solución de gráficos basados en templates Viz Content Pilot cuya principal novedad es la significativa mejora en la facilidad de creación de gráficos onair para informativos.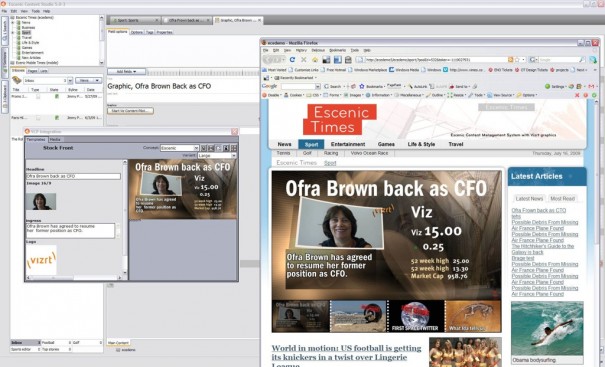 La nueva versión 5.3 de Viz Content Pilot que Vizrt presentará por vez primera en IBC'09 incluye tres nuevas características. Una de ellas, es una nueva función de búsqueda unificada que permite a los usuarios buscar, editar y utilizar las imágenes, vídeos y clips de audio procedentes de Viz Object Store y Viz Video Hubde. Los resultados de la búsqueda pueden editarse y añadirse a las plantillas de gráficos on-air para su emisión o publicación online. Esta característica es especialmente importante, ya que
hace de puente entre el flujo de trabajo en grafismo tradicional y el flujo de vídeo.
Viz Content Pilot 5.3 también viene totalmente integrado con Scenic Content Studio 5, la plataforma de publicación para online y móvil. Gracias a esta herramienta se puede publicar en la web sin problemas, ya sea como imágenes bajo demanda o totalmente animadas.
Desarrollado específicamente para la publicación de los flujos de trabajo en línea, Viz Content Pilot 5.3 ahora ofrece una vista previa denominada Vizky que supone una alternativa al previo de Viz Engine. De esta forma, se potencia el motor de escritorio de vista previa, pudiendo los periodistas hacer una previsualización en tiempo real, pudiendo probar y experimentar las capacidades interactivas de todos los gráficos.
Petter Ole Jakobsen, CTO de Vizrt, ha destacado que "el diseño de la versión 5.3 trata de permitir la creación y entrega de gráficos y vídeo de forma más rápida tanto en plataformas onair como online. Con los broadcasters aumentando su presencia online y reduciendo su personal para creación y producción de contenidos, creemos que esta solución es algo que nuestros clientes demandan hoy".

Did you like this article?
Subscribe to our RSS feed and you will not miss anything.
Other articles on IBC, Vizrt
Otros artículos relacionados