Panasonic shows ease of production in 3D in FICOD
The content producers that have passed this week by FICOD 2010 have seen firsthand the possibilities provided by the stereoscopic production in many environments. Among other solutions, Panasonic has exhibited its new AG-3DA1 camcorder at the Palacio de Congresos of Madrid. In the space of RTVE in FICOD 2010 also will have seen demonstrations of robotic cameras Multiformat HD AK-HC1500, as well as the control of robotic AW-RP555 and AW-H550 mixer.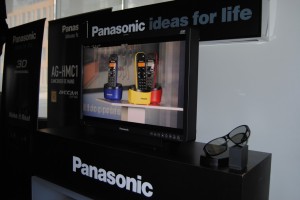 Los productores de contenidos que han pasado esta semana por FICOD 2010 han podido comprobar de primera mano las posibilidades que la producción estereoscópica les brinda en numerosos entornos. Entre otras soluciones, Panasonic ha exhibido en el Palacio de Congresos de Madrid su nuevo camcorder AG-3DA1, que integra las dos lentes, la cámara y un grabador dual en tarjeta de memoria, en un único cuerpo ligero y compacto. El camcorder incorpora ajustes estereoscópicos para facilitar el uso y la operación.
El sistema de lentes gemelas adoptado en la sección óptica del camcorder posibilita el ajuste del punto de convergencia. También se hallan disponibles funciones para la corrección automática de desplazamiento horizontal y vertical. Normalmente, los sistemas 3D convencionales obligan a realizar estos ajustes mediante un PC o un procesador de vídeo externo. El nuevo camcorder, sin embargo, se recalibr sin necesidad de equipamiento externo, permitiendo la captación de imágenes 3D con gran inmediatez.
Panasonic también ha llevado a cabo demos de contenidos 3D sobre su pantalla Viera 3D Full HD de 80 pulgadas con tecnología NeoPDP y 600 Hz, así como sobre los monitores profesionales 3D BT-EDL2550 para entornos de postproducción y estudio.
En el espacio de RTVE en FICOD 2010 también se han podido ver demostraciones de las cámaras robotizadas multiformato HD AK-HC1500, así como del control de robóticas AW-RP555 y el mezclador AW-H550.

Did you like this article?
Subscribe to our RSS feed and you will not miss anything.
Other articles on 3D, AG-3DA1,

AK-HC1500

,

AW-H550

,

AW-RP555

, FICOD, Panasonic, RTVE
Otros artículos relacionados