Nuevo control remoto portátil para Studer Vista
Harman Studer ha incorporado el control remoto para sus consolas Studer Vista, que presenta ahora en NAB.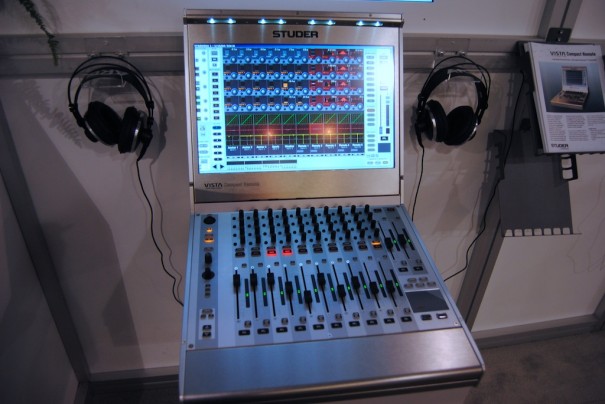 A menudo hay momentos en los que a un operador de consolas le gustaría poder estar de pie en cualquier lugar durante un evento y poder cambiar la configuración de la consola. Para los usuarios de las Studer Vista de Harman, ese sueño está a punto de convertirse en realidad.
En la feria NAB de Las Vegas, Studer está presentando su nuevo Studer Compact Remote Bay, un controlador portátil apenas mayor que un laptop, pero que contiene 12 faders motorizados Penny & Giles y 40 controles giratorios que se vinculan a una pantalla táctil de 19″que funciona con el software Virtual Vista de Studer. Esto emula la aclamada interfaz de usuario Vistonics de la consola.
Además del funcionamiento remoto, la Compact Remote Bay también se puede utilizar para ampliar la superficie de control principal para un segundo operador en programas de gran tamaño. Puede ser utilizado incluso como un controlador independiente para el núcleo de la DSP de Vista si la superficie de control no está disponible, con el suministro de conexiones para el monitoreo 5.1 local y una salida de auriculares. Para la protección de la portabilidad y del tránsito, la pantalla se pliega sobre la superficie de control.
Otros nuevos productos que Studer muestra en NAB son la consola de mezclas Studer Vista 1 Compact, el motor de efectos Lexicon Vista, la opción de medición RTW TM7 para el protocolo de control Ember integral de las consolas Vista integrante y una tarjeta AOIP Axia Livewire para el sistema D21m.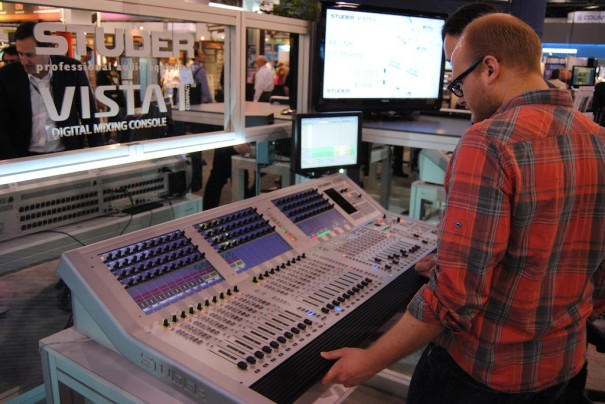 Did you like this article?
Subscribe to our RSS feed and you will not miss anything.
Other articles Harman,

NAB2012

,

Studer