Meduza, un curioso proyecto para estereoscopía a 4K
La británica 3D Visual ha desarrollado un interesante proyecto de cámara estereoscópica que, capaz de trabajar a 4K, es compacta, ligera, flexible en cuanto a resolución y ofrece controles precisos de inter-axial y convergencia.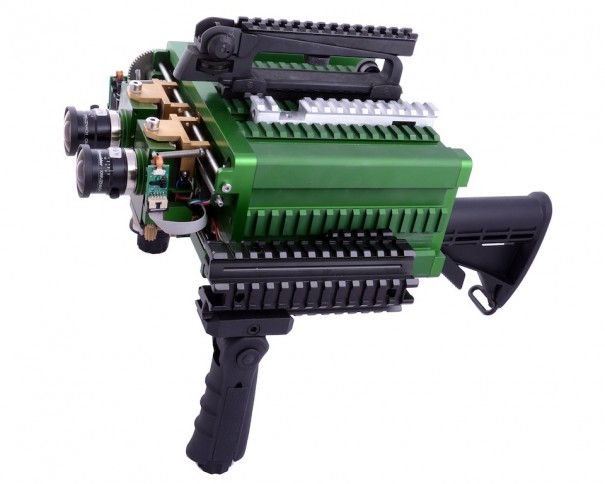 Meduza, el prototipo de cámara estereoscópica 4K para captación estereoscópica desarrollado por la británica 3D Visual Enterprises levantó mucha expectación en NAB. Se trata de un sistema de imagen digital que puede configurarse en cuestión de minutos, cuenta con lentes intercambiables y permite controlar fácilmente la distancia inter-axial (la distancia entre las lentes) y la convergencia con un sencillo mando a distancia. Este prototipo, con cierto aspecto de Lego, es un único conjunto electrónico de dos sensores, que apenas pesa 15 libras (6,8 kilos).
Con respecto al avance que en este nivel de resolución significaría contar con una cámara de estas características con respecto al uso de dos cámaras sobre rigs, Jonathan Kitzen, presidente de 3D Visual, ha comentado que "una analogía simple sería si al unir dos motocicletas en conjunto obtendríamos un coche. Si bien las imágenes del ojo izquierdo y del ojo derecho se generan usando dos cámaras, al corregir defectos en postproducción se pierde mucha información, por no hablar de la aberración de la imagen y los gastos".
"Meduza es el camino hacia la solución definitiva", afirma Cary. "Éste es un enfoque completamente nuevo a las necesidades muy específicas de la creación de contenido 3D estereoscópico. Compacta, flexible en cuanto a resolución, con una variedad de configuraciones del sensor, frame rate variable y controles precisos de inter-axial y convergencia, la convierten en un proyecto a tener muy en cuenta para todos los trabajos en 3D en deportes, historia natural, largometrajes y eventos en vivo".
[youtube]http://www.youtube.com/watch?v=4JEvBX72evs[/youtube]
Did you like this article?
subscribe to our RSS feed and you will not miss anything.
Other articles on 3D,

3D Visual

, NAB11