Jesús Garzón, nuevo director del Sur de Europa de Mobotix
Tras haber ejercido el puesto de Director de España y Portugal desde 2004, Mobotix nombra a Jesús Garzón como nuevo director para el Sur de Europa de Mobotix.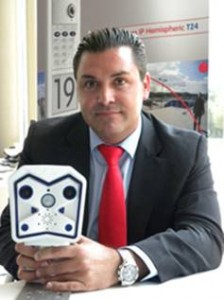 Tras haber ejercido el puesto de director de España y Portugal desde 2004, al que se sumó la responsabilidad de dirección de África y Oriente Medio hace dos años, Jesús Garzón asumirá a partir de ahora la dirección del Sur de Europa de Mobotix, sumando a sus responsabilidades de dirección de desarrollo de negocio de España y Portugal, las del resto del Sur de Europa, lo que incluye además de Iberia, Italia y el Sur de Europa del Este.
Garzón ha comentado que "este nuevo cargo es todo un reto que asumo con satisfacción y con alegría ya que demuestra la confianza que tiene en mi la compañía. Está claro que va ser un gran reto y mucho trabajo, pero desde luego, para mí significa el reconocimiento a estos 7 años de trabajo y buenos resultados. Es una gran responsabilidad que voy a desempeñar lo mejor que pueda".
Jesús Garzón Crespo, nacido en 1970, es Licenciado en Ciencias Económicas y Empresariales por la Universidad de Salamanca. Comenzó su carrera profesional en la cadena hotelera Sol Meliá, donde desempeñó durante más de tres años el cargo de asistente de dirección al departamento de RR.PP. en distintos complejos hoteleros de España así como de Coordinador de Tecnología y Calidad en la sede central de la empresa en Palma de Mallorca.
Posteriormente, se incorporó a la empresa multinacional Convision Technology GmbH como Account Manager. En esta misma empresa, donde trabajó durante cinco años, ocupó diferentes puestos de responsabilidad hasta promocionar a International Sales Manager para Sur de Europa y América Latina, puesto que ostentaba antes de incorporarse a Mobotix AG en 2004.
Did you like this article?
subscribe to our RSS feed and you will not miss anything.
Other articles on

Mobotix