Equinix will be hosting solution cloud LYNX's Front Porch
LYNX, cuya nube se alojará en el Equinix International Business Exchange (IBX) en Londres, es una solución pensada para la recuperación de desastres segura especialmente concebida para entornos broadcast.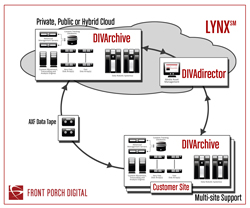 Front Porch Digital ha optado por el centro de datos de alta seguridad Equinix International Business Exchange (IBX) en Londres, conocido popularmente como LD5, para albergar su nueva plataforma en nube LYNX.
Mike Knaisch, presidente y CEO de Front Porch Digital, ha asegurado que "nuestra plataforma LYNX es la primera solución de gestión de almacenamiento de contenido (CSM) en la industria de contenidos y medios digitales que proponemos en la nube. Ya que nuestra primera preocupación era la seguridad, optamos por Equinix ya que sus instalaciones están muy por encima de todas las demás. También nos impresionó el ecosistema de contenidos y media digitales de Equinix, del que estamos panificando sacar máximo provecho conectándonos de manera más amplia tanto con clientes existentes como con otros socios potenciales de negocios".
LYNX es una solución pensada para la recuperación de desastres segura y basada en nube especialmente concebida para entornos broadcast.
LYNXdr es el primer producto comercial nacido al amparo de la iniciativa de content storage management (CSM) LYNXsm, que integra por vez primera publicación de video online basado en nube (online video publishing OVP).
Front Porch Digital LYNX technology thus offers an integrated environment based on cloud for the management of assets on a global scale from any device and location.
Enfoque global en la gestión de activos
Leveraging technology and security of the cloud, the LYNX product family is compatible with a wide range of network and distribution solutions, giving broadcasters a global approach in the management of assets with an outstanding range of benefits in terms of adaptability, scalability, low demand, reduced investment and simplified maintenance. Tightly integrated with multiple solutions, and on the basis of DIVArchive, LYNX services provide a path for profitability sustained operating fluid and competitive, providing rapid deployment of infrastructure both 'play to air' as 'online'.
El servicio LYNXdr permitirá ingestar contenido basado en archivos de vídeo a través de la creación de redes y el envío de cintas de datos. Los usuarios tienen la opción de gestionar los procesos de ingesta y restauración de forma manual desde el software suministrado, o la automatización de los procesos para la ingesta y la restauración de tareas en segundo plano de forma transparente y sin fisuras. Cada servicio LYNXdr viene con el software necesario para las implementaciones de red existentes de DIVArchive a la nube y con la opción de integrar el sistema de gestión de activos DIVAdirector V.5 para ver el contenido de todo el sistema.

Did you like this article?
Subscribe to our RSS feed and you will not miss anything.
Other articles on Front Porch
Otros artículos relacionados