Movistar+ concludes the first semester as the platform with the most Spanish production premieres

Según el último informe
GECA
sobre la producción española en OTT en el último semestre de 2022, Movistar+ es la plataforma con más estrenos de series "made in Spain" en el primer semestre de 2022, seguida de Amazon Prime Video y Netflix.
As to horas de contenido inédito emitido, Movistar + y Prime Video lideran el ranking con 57 y 56 horas de contenido, respectivamente, seguidas de Netflix (41 horas) y Atresplayer (38 horas).
Prime Video es la plataforma que más ficción ha producido en España en el primer semestre de 2022 en horas (41 h). Desaparecidos T2, Madres T4 y Días mejores son de las que más horas acumulan. Le sigue Netflix, con 35 horas de contenido en exclusiva y 6 títulos de ficción, entre los que destacan Elite T5, Bienvenidos al Edén o Fair: the darkest light han sido algunas de sus apuestas más populares.
Movistar+ (29 h) también ha traído este semestre seis ficciones originales. Las nuevas apuestas han sido Todos mienten, Rapa y Sentimos las molestias. Por su parte, Atresplayer continúa apostando por la ficción española con wounds, Señor, dame paciencia y The age of anger. Estas tres series acumulan 21 horas de contenido en la plataforma. Starzokay, con Express, y Apple TV, con Now and then, se animan a producir ficción española por primera vez.

Hegemonía de series españolas
El informe de GECA destaca también que The Money Heist continúa su hegemonía como la serie más vista de las plataformas OTT en esta 12ª oleada. Cinco de las series más vistas durante este último semestre son españolas: La casa de papel, La que sea avecina, Aquí no hay quien viva, El Pueblo y Elite.
En lo que se refiere a entretenimiento, Movistar + lidera en número de producciones (6 producciones) y empata con Mitele en número de horas, convirtiéndose en las dos plataformas con mayor número de horas producidas en España.
Por último, GECA señala que The Mediapro Studio es el grupo con más producciones para OTT's en el primer semestre de 2022, seguido de Mediterráneo y Buendía Estudios.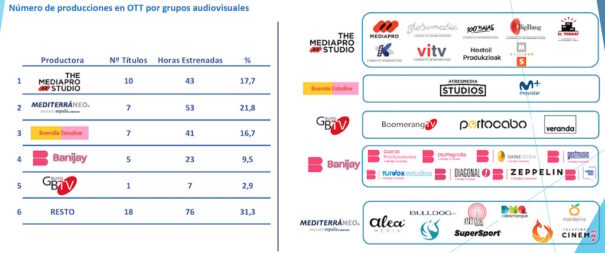 Did you like this article?
subscribe to our RSS feed and you will not miss anything.
Other articles on studies, GECA, Movistar