Quicklink to showcase integration between STS410 and AI tool Cre8 at NAB 2023

The Quicklink STS410 video production platform expands its capabilities with the possibilities enabled by the Cre8 AI solution at NAB 2023 (Las Vegas, 15-19 April).
Quicklink STS410, a production platform launched in 2021 with numerous tools for creating professional finishing productions, now integrates Cre8, a solution that takes advantage of Nvidia Maxine AI and machine learning technology to apply AI-based filters to video sources.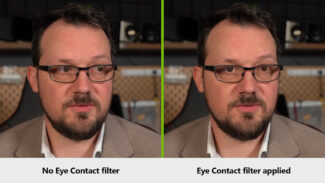 With Cre8, users can capture and input an "unlimited" number of sources, such as cameras, microphones, video, NDI sources and remote guests, and easily apply AI-based filters directly from the Cre8 interface, such as automatic framing, video denoising, noise and echo cancellation and eye contact simulation. This last tool, according to Quicklink, ensures that presenters, Quicklink Studio, Zoom, Microsoft Teams and other remote guests always look directly into the camera, even when looking away or reading notes.
These AI tools are compatible with the other features of the Quicklink STS410 production system, including simultaneous broadcasting to platforms such as Facebook, LinkedIn, Twitter or Twitch; to any other destination via RRMPT or SRT; or to a channel of the user's choice via the integrated HD-SDI outputs.
¿Te gustó este artículo?
Suscríbete a nuestro RSS feed y no te perderás nada.
Other articles on NAB2023 [INT],

Nvidia [INT]

,

Quicklink [INT]