Sonic College adopts a Solid State Logic system for immersive audio training

The Danish Sonic College, part of University College South Denmark, adopts a digital audio mixing console in its new facilities Solid State Logic System T, as the centerpiece of an immersive music production room Dolby Atmos 7.1.4.
According to audio technology specialist Lars Tirsbaek, professor and technical advisor at Sonic College, audio over IP, an immersive mixing bus and the fact that the System T is the console used throughout the Danish media and entertainment industry were factors that influenced the decision to install the new consola S500 of 32 faders. "We decided very early to go with a digital table," she says. "Our job is to educate students for the future, and the future is digital."
"We also decided that we wanted to have an audio-over-IP infrastructure in the new building so we could move things around. For the construction of studies, Dante it's the best right now; Audinate has the largest market share, period. We wanted a network-based desktop and our specification was for it to be able to do AES67, so we thought it was a good idea for it to be Dante-based," he adds.
Sonic College's programs span sound design, film sound, music production, video game audio, and podcasting. In addition, the university researches sound in wellness technology.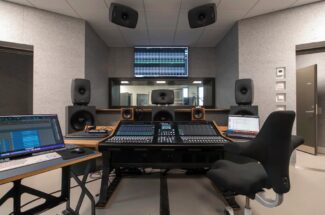 The new facility focuses on immersive audio, from the central atrium equipped with 180 speakers and a stage for live performances with a system of P.A. 7.1.8 to the many Dolby Atmos mixing and mastering rooms.
The university had made the decision to build its first Dolby Atmos music venue several years ago while at its previous location, Tirsbæk says, a decision that was validated by what he saw during his visit to the 2020 NAMM Show in California and later by Apple Music's introduction of its Spatial Audio service.
"It was always the dream to have an Atmos music studio. But the biggest problem with immersive monitoring is that if you go through Pro Tools and the Atmos renderer, you'll have latency. You can't use that for recording. It was obvious that we needed something with a mixing bus capable of doing 7.1.4", he says. "And when we decided to buy a console, there was only one capable of doing it: the System T."
Did you like this article?
subscribe to our RSS feed and you will not miss anything.
Other articles on Audinate, Dolby, Solid State Logic