Strong bet Cinesa by 3D in Spain
El grupo exhibidor afrontará la crisis inaugurando veinticinco nuevas salas con proyección en tres dimensiones que vendrán a sumarse a las cuatro ya existentes. La tecnología correrá a cargo de Real D, NEC y Qube, con integración de Kelonic.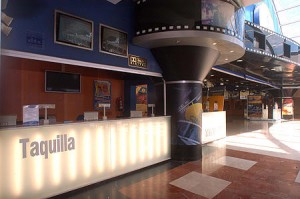 En un momento en el que la crisis económica está en boca de todos y las empresas optan por el conservadurismo, Cinesa apuesta por las nuevas tecnologías y se adapta a las demandas de su público y de la industria cinematográfica. Por ello, la empresa tiene previsto ampliar la red de pantallas digitales con proyección Digital 3D e instalar esta tecnología en 25 cines que se sumarán a los cuatro que ya la incorporaron en años anteriores. Esta acción se enmarca en el ámbito de expansión digital que está realizando el grupo de empresas Cinesa-Odeon-Uci en toda Europa.
La tecnología elegida por Cinesa será la de Real D, mientras que NEC será el responsable de suministrar los proyectores y Qube se encargará de los servidores. Toda la instalación e integración será obra de Kelonik.
Cinesa realiza esta ampliación como respuesta al gran número de producciones en 3D, que superará la quincena y que se estrenarán durante este 2009, con títulos como Monstruos contra Alienígenas, Ice Age 3, Dawn of the Dinosaurs, Up, G-Force, Disney's a Christmas Carol o Avatar. Esta nueva apuesta de Cinesa por el Digital 3D arrancó la pasada Navidad y está previsto que las 32 pantallas estén a pleno rendimiento a lo largo de los seis primeros meses de 2009.
Los cines que entran en la ampliación de la red 3D de Cinesa son Diagonal, Diagonal Mar, Heron City y La Maquinista en Barcelona; Proyecciones, Xanadu, Parquesur, San Blas, Las Rozas, Loranca, La Moraleja, Vallecas y Príncipe Pío en Madrid; Equinocio (Majadahonda); Mataró, Parc Vallès (Terrassa), Festival Park (Palma), Artea (Bilbao), La Cañada (Málaga), Parque Principado (Oviedo), Santander, Augusta (Zaragoza), Gran Casa (Zaragoza), Bonaire (Valencia), El Muelle (Las Palmas), Siete Palmas (Las Palmas), Panoramis (Alicante), Nueva Condomina (Murcia) y El Foro (Mérida).

Did you like this article?
Subscribe to our RSS feed and you will not miss anything.
Other articles on 3D, Cinesa, Kelonik, NEC, Qube,

Real D
Otros artículos relacionados