Strong bet Cinesa by 3D in Spain
The exhibitor will face the crisis group opening twenty new rooms with three-dimensional projection that will add to the four existing ones. The technology will be provided by Real D, NEC and Qube, integrating Kelonic.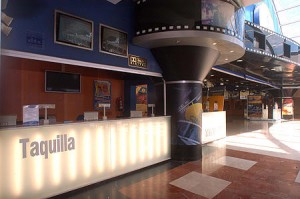 At a time when the economic crisis is on everyone's lips and companies choose conservatism, Cinesa commitment to new technologies and adapting to the demands of the public and the film industry.
The technology chosen by Cinesa will be to Real D, while NEC will be responsible for supplying projectors and Qube will manage the servers. All installation and integration will work Kelonik.
Cinesa makes this expansion in response to the large number of 3D productions, which exceed the fortnight and will debut during the 2009, with titles like Monsters vs. Aliens, Ice Age 3 Dawn of the Dinosaurs, Up, G-Force, Disney's on Christmas Carol or Avatar. This new commitment by Digital 3D Cinesa started last Christmas and is expected to be 32 screens at full capacity during the first six months of 2009.
Cinemas entering the extension of the 3D network are Cinesa Diagonal, Diagonal Mar, Heron City and The Machinist in Barcelona; Projections, Xanadu, Parquesur, San Blas, Las Rozas, Loranca, La Moraleja, Vallecas and Principe Pio in Madrid; Equinox (Majadahonda); Mataró, Parc Vallès (Terrassa), Festival Park (Palma), Artea (Bilbao), La Cañada (Málaga), Principality Park (Oviedo), Santander, Augusta (Zaragoza), Big House (Zaragoza), Bonaire (Valencia), The Muelle (Las Palmas), Siete Palmas (Las Palmas), Panoramis (Alicante), New Condomina (Murcia) and The Forum (Mérida).

Did you like this article?
Subscribe to our RSS feed and you will not miss anything.
Other articles on 3D, Cinesa, Kelonik, NEC, Qube, Real D
Otros artículos relacionados