5 technologies that will mark (or not) the future of movie theaters



Las salas de cine son, por sí mismas, toda una experiencia. Pero al tiempo que los fabricantes de soluciones invitan a los consumidores a toda una carrera tecnológica en sus hogares, los grandes exhibidores se plantean alternativas que buscan invitar a los espectadores a vivir un acontecimiento colectivo y totalmente rompedor frente a la gran pantalla.
In the midst of the vortex of industrial redefinition in terms of distribution business models, las salas abordan un periodo en el que la tecnología se presenta como una ally. No es nada nuevo: a lo largo de la historia del cine, las innovaciones técnicas (ya fuera la implementación del sound, Cinerama, 3D O immersive audio, por citar unos pocos ejemplos) han tratado de solve uncertainties with mayor o menor suerte.
En la actualidad, la consolidación de los streaming services (en 2021 el 57% de los españoles vio series o películas en plataformas VOD according to the latest report Digital Society in Spain of Telefonica), the unpredictability that accompanies a post-COVID world and a noticeable rise in prices, lleva a la industria a plantear y comercializar new technological solutions to fight against eternal fear of empty rooms.
some will succeed. Otras, quedarán en el olvido. Pero merece la pena asomarse para descubrir ciertas tecnologías que, inevitablemente, ya están conditioning the production and post-production phase of large blockbusters.
---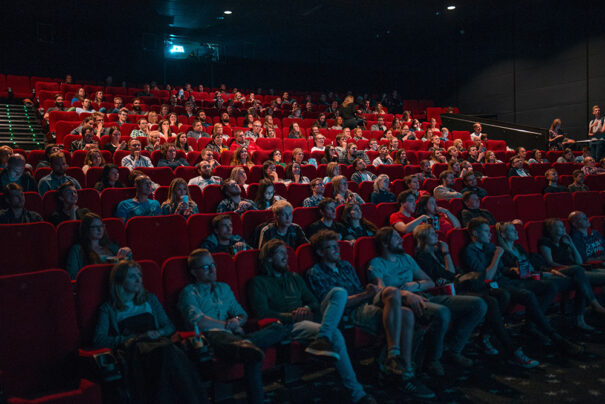 1. iBeacon: experiencia tecnológica antes de entrar en la sala
A trend defended by an important part of the industry is to make "going to the movies" a new concept. Gurús, integradores y ejecutivos defienden que la movie going experience and attend a moment of collective contemplation en el que las luces se apagan y el mundo se pausa, por sí misma, is not sufficient. Al igual que se confirma con los grandes eventos deportivos, el camino pasa por invitar al espectador a get to the room earlier and give you an expanded experience. Así lo confirma a Panorama Audiovisual Toni Illa, director comercial de movies: "Nuestro objetivo es hacer que esta experiencia sea única y exclusiva desde el momento en el que deciden comprar la entrada hasta que salen por la puerta después de ver el filme. Y esto pasa por apostar fuertemente por la tecnología y la innovación como puntos clave de esta vivencia diferencial".
En este sentido, aparecen tecnologías como iBeacon y similares, un protocolo desarrollado por Apple based on bluetooth low energy que permite interactuar de diferentes formas al llegar a la sala del cine. Los portales especializados BeaconZone and BeaconStac recoge experiencias que ya han tenido sus fases de prueba en varias salas: check-in, información sobre tiempos de espera, uso de cupones, guiar al espectador a su asiento, enviar mensajes a los móviles para avisar al espectador en el momento que se sienta que poner el móvil en silencio, o incluso poder reservar tickets para ver una película en el momento en el que el tráiler está siendo proyectado en pantalla.
It's not a new concept: grandes cadenas llevan dándole vueltas a las posibilidades desde el año 2014. Sin embargo, el abaratamiento de la tecnología y la mejora en el smartphone ecosystem podría dar una nueva oportunidad a la solución.
---

2. LED y proyección láser
At a time when the director's look is transformed by hypersaturated LED panels O inaccurate HDR technologies (algo pendiente de solventar gracias a los nuevos Filmmaker Fashion), las salas de exhibición se presentan como alternativa para preservar las filmmakers' intentions. No obstante, cada vez más existe un gap between the visual expectations of viewers and what the exhibition halls can offer. Ante esta situación, los exhibidores plantean alternativas para seguir fascinando al público.
The inclusion of laser projectors it is still a natural evolution that allows expand color spaces and sometimes offer light sources with better performances. Muchas salas de exhibición ya las están implementando, y, de hecho, festivales como Cannes is betting hand in hand with Christie for its standardization. Illa apunta que Cinesa espera que la proyección láser "expand" durante los próximos años.


Frente a la mejora de la proyección, se presentan las led movie screens, las cuales cuentan entre sus "ventajas" un acabado más vivid, lower loss of luz, compatibilidad con higher resolutions and the possibility of expand seats while the projection rooms become no longer necessary.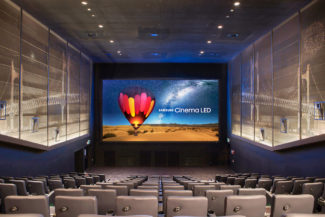 The Japanese and Korean market has already largely embraced these technologies and studies such as 2020 Global LED Video Wall Market Outlook- Meeting Room, Sales Channel and Price Trend from LEDinside (TrendForce) señalan que en 2023 one in eight movie screens se beneficiarán de esta tecnología.
---

3. PLF y lo panorámico
En 1952, se hizo realidad el sueño de Fred Waller: ampliar la experiencia cinematográfica ofreciendo una primera imagen panorámica. El sistema, llamado Cinerama, se beneficiaba de la utilización de tres cámaras de 35 mm con lentes de 27 mm para simular la profundidad focal del ojo humano y, desde esta forma, rodar con un ratio de aspecto que podría alcanzar el 2.65:1. Con el uso de varios proyectores, las grandes salas de exhibición podrían ofrecer una experiencia completamente inmersiva. El proyecto falló: apenas un puñado de películas se beneficiaron de la tecnología. Las production complications, la falta de interés de las imágenes más escoradas y la small number of cinemas capable of displaying this projection made it fall into oblivion except for nostalgic people like Quentin Tarantino, que revivió el formato rodando en Ultra Panavision 70 The Hateful Eight.
Recientemente, la tendencia ha renacido en forma de PLF: Premium Large Format. The PLF, si bien tiene diferentes manifestaciones (las cuales buscan mejorar la experiencia del cine), cuenta con varios ejemplos en los que se busca take advantage of the sides of the projection rooms to favor the inmersividad. The proposal of Ice Theaters, por ejemplo, implica la instalación de LED panels a ambos laterales de la pantalla, los cuales se will take care of duplicating the images to provide a contenido ambiental, que no narrativo. El concepto, de esta forma, se aleja de lo que podría proponer Waller con el Cinerama o el que sigue ofreciendo IMAX, que en el reciente reestreno de Avatar en China logró acaparar un tercio de la recaudación en el país. Everything happens and everything is.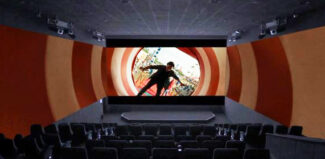 La tecnología de Ice Theaters, bautizada como Ice Immersive, actualmente ha llegado a los Ocina Granollers, aportando, depending on the company, "mayor sensación de velocidad y dirección a un movimiento, engrandeciendo un paisaje o amplificando los efectos especiales de forma suave". Otra alternativa que recientemente ha llegado a España es ScreenX from CJ 4DPlex, que apuesta por el uso de two additional large-format side screens to offer a 270º viewing sensation. En esta ocasión, se beneficia de una tecnología de "reconstrucción de la imagen", si bien la firma presenta en su website diferentes herramientas de producción para lograr un mejor acabado. movies es una de las compañías que ha implementado esta tecnología: "Con tecnologías como IMAX o ScreenX (…) conseguimos diferenciarnos desde un punto de vista tecnológico y proporcionar a nuestros clientes nuevos motivos para que vayan a nuestros cines a disfrutar del Séptimo arte. Por lo que estamos viendo, esta es una tendencia que ha venido para quedarse", comenta Illa.
---
4. HFR en el cine
In the battle for resolutions, the immersive audio o la color fidelity, hay un elemento que siempre ha sido el gran olvidado: el HFR (High Frame Rate, o Alta Velocidad de Fotogramas). Jack Kline, exCEO de Christie y actual responsable de Cinity, evidencia esta realidad: "Llevamos 100 años de cine y seguimos haciendo películas a 24 frames por segundo". Por supuesto, Kline barre para casa, pero esto no quita que la industria se esté movilizando para poder llevar estas altas velocidades a las salas de exhibición.
the industry seems timidly watch the trend. El siempre inquieto Ang Lee, after betting on 3D with the Oscar-winning The life of Pi, rodo su Gemini Project en 120 fps, siendo estrenada en 60fps. La película fue a complete commercial failure y algunos espectadores criticaron la sensación conseguida en pantalla, si bien reconocieron improvement in action scenes.
James Cameron, otro amante de la tecnología y las palomitas, está rodando las secuelas de Avatar a 48fps with the intention of consolidating the format in the cinema, igual que consiguió revivir (aunque sea por solo unos años) el 3D. En España, no son pocos los exhibidores que ya promocionan el HFR como reclamo tecnológico para los espectadores. Entre ellos, cadenas como Cinesa, helmet O Kinépolis, y otros exhibidores independientes.
---

5. Cine y efectos: 4DX, Buttkicker, D-Box…
Sensación ampliada para unos, circo para otros: en cualquier caso, las salas 4DX avanzan con rotundidad por medio mundo. Experiencia ampliada de las salas 4D (extendidas en parques temáticos), esta marca también desarrollada por la compañía coreana CJ 4DPlex coordinates the cinematic experience with vibración y movimientos de asientos, viento, lluvia, nieve, niebla, olores, luces estroboscópicas and so on until 20 efectos.

La tecnología, usada para estrenos recientes como Doctor Strange and the Multiverse of Madness, Top Gun Maverick O Jurassic World Dominion, sigue creciendo con novedades como la inclusion of four screens (la principal, una sobre los espectadores y dos laterales, mejora del concepto ScreenX previamente mencionado) o la combination with augmented reality glasses, si bien esta tecnología únicamente es compatible con piezas creadas ex profeso.

Numerous companies seek to join the bandwagon of immersiveness. ButtKicker, con una importante presencia en Estados Unidos y Asia, ha desarrollado un sistema que se instala en los asientos y permite mejorar la experiencia del cine traduciendo las frecuencias más bajas en vibraciones. Por otro lado, D-Box sigue profundizando en las posibilidades de los temblores, esta vez añadiendo una programación en función de las imágenes de la pantalla.
Paralelamente, numerosas salas apuestan por la inclusión de las salas premium que complementa la experiencia visual con cargadores para móviles, tablet para pedir entre un menú de comida y bebida, asientos reclinables o luces led individuales.
---

¿Volver a las salas?
The pandemic and the improvement of home technology has invited viewers to rediscover home theater. Por el camino, se pierde el silencio de la tensión, las risas de los momentos cómicos o el murmullo de sorpresa ante un giro de guion de las salas. Sin embargo, la escasez de normas, lo reducido del coste de una suscripción mensual a una plataforma de streaming o la comodidad del hogar hace que las salas de cine hayan tenido que redefine your concept.
At experiencias interactivas, tecnológicas e inmersivas que hemos repasado, las cuales buscan marcar la gran diferencia con el salón o el dispositivo móvil, se suman otras alternatives which have the objective of collective experience takes on new dimensions. Los visionados en directo de major sporting events, como pueda ser partidos de fútbol, series premieres or the mere live monitoring of the final of Eurovision (fomentando la participación a través de móviles) se presentan como alternatives for return to the rooms y, de nuevo, connect with the world after a period of isolation. Al final, todo trata de "reinvent yourself", como remarca Illa: "Proporcionamos a los clientes nuevas formas de disfrutar al cine". Entre estas alternativas, el responsable comercial de movies list the possibility of alquilar una sala de cine, competir a un videojuego o ver óperas, obras de teatro y documentales, modelos de negocio "que pueden convivir completamente con el cine más tradicional".
The exhibition halls are located in a crossroads. It's not the first time. Primero fue la television, luego el Internet, y ahora las streaming platforms. El espectador cinéfilo, al fin y al cabo, will not give up the rooms. ¿Pero será la tecnología la solución que pueda devolver al cine al gran público?
A report by Sergio Julián Gómez
Did you like this article?
Subscribe to our RSS feed and you won't miss a thing.
Other articles about Christie, movies, Cinity, CJ 4DPlex, Ice Theaters, Ocina