The EBU tested the immersive and customizable possibilities of Next Generation Audio at Eurovision
En esta experiencia llevada a cabo durante la emisión del Festival de Eurovisión desde Tel Aviv han participado Ateme, Fraunhofer IIS, Jünger Audio, Sennheiser, Solid State Logic y Telos Alliance.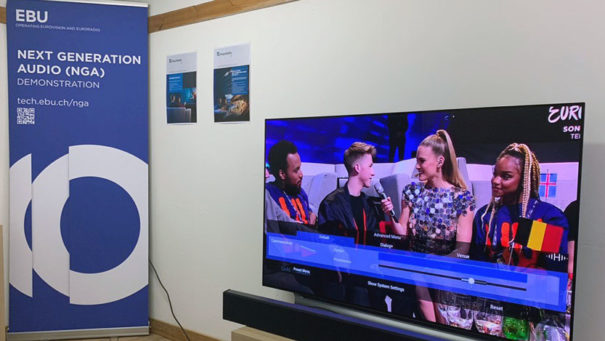 La Unión Europea de Radiodifusión (UER) junto a sus socios tecnológicos durante el Festival de Eurovisión que tuvo lugar el pasado sábado en Tel Aviv (Israel) llevó a cabo una producción paralela mezclando y emitiendo una señal en directo bajo el formato de Audio de Nueva Generación MPEG-H. El contenido se puso a disposición de los broadcasters para para que testasen las capacidades de este audio a través de la red FINE de Eurovisión.
En esta experiencia han participado Ateme, Fraunhofer IIS, Jünger Audio, Sennheiser, Solid State Logic y Telos Alliance.
Next Generation Audio (NGA) permite la entrega de una experiencia auditiva envolvente que puede ser totalmente personalizada, a cualquier dispositivo, ya sea en el hogar o en movimiento. Para los radiodifusores, se trata de un escenario de producción de una sola vez y de entrega en cualquier lugar, evitando la necesidad de crear mezclas dedicadas para todas las situaciones de reproducción posibles.
Los usuarios de NGA han podido así ajustar los volúmenes relativos de los intérpretes, los comentarios y el ambiente de fondo, o cambiar entre varios idiomas diferentes. Los usuarios de audífonos pueden sumergirse en el sonido binaural 3D, mientras que aquellos con barras de sonido habilitadas para NGA o configuraciones de varios altavoces pueden experimentar el audio que los envuelve por todos lados.
Debido a que todos los diferentes elementos de audio se entregan individualmente, pueden controlarse por el usuario final. Esto significa que las personas que tienen dificultades auditivas pueden mejorar el comentario a la vez que reducen el ambiente de fondo, por ejemplo, aumentando así la accesibilidad del contenido de los medios de comunicación.
La UER está trabajando para garantizar que los radiodifusores puedan evolucionar fácilmente sus flujos de trabajo de producción y entrega, de forma abierta e independiente del códec, para atender a la creciente población de dispositivos con capacidad NGA en el mercado. En este momento existen tres soluciones estandarizadas para NGA: MPEG-H Audio, AC-4 y DTS-UHD.
Did you like this article?
subscribe to our RSS feed and you will not miss anything.
Other articles on Atem,

Fraunhofer

, Sennheiser, Solid State Logic,

Telos

, UER