Vaca Films: 20 years in the cinema, a future in television fiction


Borja Pena, founder of Vaca Movies, takes stock of the first 20 years of the Galician production company's career and addresses its future, which will be profoundly marked by the impact of new television fiction.
Cell 211, One Hundred Years of Forgiveness, Emperor Code, The Disorder You Leave, The Child, Extinction, Fatum, Up to Heaven, Infestation, Unity o who kills iron are just a few examples of the audiovisual legacy that Vaca Movies is leaving the Spanish industry since it was founded in 2003 by Borja Pena y Emma lustres.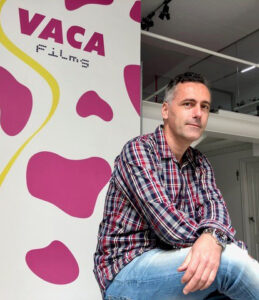 Carrying the cinema by flag, to 20 years of its foundation, has achieved multiple milestones in the form of awards and identity. The thriller is the banner that it carries and that it continues to explore with an annual production that yields an average of four major projects.
During these decades, and especially in the last five years, the game board on which Vaca Films used to play has changed. The decline of film distribution in favor of video on demand platforms, together with a commitment to premium serial formats, have led the Galician production company to redefine its identity. And it is that the film production company label, once a symbol of know-how, prestige and weight, perhaps today better describes a feeling of romanticism and resilience.
The 20th anniversary of Vaca Films and this exciting context allows Borja Pena to share impressions, reflections and unresolved questions about the reality that accompanies Spanish audiovisual production.
---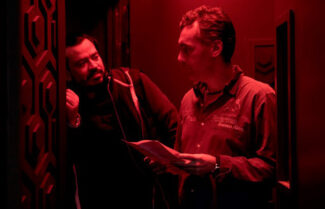 Vaca Films celebrates two decades of life in 2023. Have the objectives that were set out in the genesis of the project been met?
We can say that all the goals that Emma and I set for ourselves when we set up the company 20 years ago have been achieved a long time ago; we were very young and the objectives were not super ambitious. Basically we wanted to do films from Galicia to Spain, but also with the possibility of being seen abroad due to its theme and quality. We also wanted to be one of the leading production companies in the film industry in Spain.
We began by collaborating a lot with other production companies, and when we had acquired the necessary experience and had background in the sector, we began to lead our own projects, to make the films much more our own and to make a type of cinema with his own stamp.
One of the keys of the production company was the decision to make films in Galicia without the need to use Madrid or Barcelona as a hub. How has production evolved from Galicia in this time?
Vaca Films has been in Galicia for twenty years and we have not moved to a large extent because there has always been support for our sector that is still there. From the beginning, they were very useful to get into projects and, later, to make them more competitive; better, bigger and more interesting for the public. Furthermore, it should not be forgotten that here there were pioneers before us who opened this sector, as well as a television that has also supported us a lot.
Has the industry developed to such an extent that they can be "independent" from the rest of the territory?
In Galicia you can make top-level and top-quality films in the Spanish audiovisual environment. Although it is true that we do not have all the technicians we could need to cover all our needs, we do have a large majority. This also extends to the actors, since there is a lot of talent derived from the Galician theater that gives options of a high level. Having said that, and although we are in a moment of great maturity in which we are capable of shooting our films where the script requires it, we always try to bring everything we can here. First, for commitment to our sector; second, for our personal comfort and conciliation, and third, because filming here is much cheaper for us. In cities like Madrid you have to pay a lot of money for things that here are free or practically free.
---

Lessons after two decades
Looking back, do you see any key production knowledge gained from years of industry experience?
Throughout the years you are taking tips that are useful later in each project. The first one that comes to mind is to be honest with the people you're making the movies with. Filming is an endless number of problems and giving up things you would like to do, but cannot. For this reason, it is very important to have a dialogue with the directors and team leaders, who, of course, will always want more. Wanting to do better is in their DNA and we have the role of helping to decide where to go when the circumstances do not exist to achieve everything you propose. That is very important. But yes, I do have the feeling that, over the years, we are capable of making better films or series with less, since we are capable of making better use of the media and helping directors on a day-to-day basis. the shoots.
He platform phenomenon has caught us in a good moment.
Vaca Films had in 2022 one of the greatest years of activity in its history. Is it the reward of the know-how of years of experience or is there another explanation for this phenomenon?
I think the fundamental reason was that we had a very focused 2020 and 2021 on the project development. Little by little they were bearing fruit, to a large extent driven by the boom of the platforms, which have basically started to produce series. This year we are not going wrong either, since we are also going to shoot two series, we are filming a movie and we will surely start another one before the end of the year. And, to this, add the premieres and post-productions that we carried over from last year. In the end, The platform phenomenon has caught us at a good time, in which we were established within film productions, and it has been good for us to increase production volumes.
---

Platforms change everything
Your first project for platforms was Unit, for Movistar Plus+. Later, many others have come. How did this opening of doors to the world of television fiction develop?
It arose in a very natural way. A few years ago, when the platforms began to produce series in Spain, many of them looked at film production companies, because they wanted to make products with that cinematographic quality; logically, do something differentiating for the public that pays a fee every month. We had conversations with several, some of them not even promoted by us, and conversation after conversation the different projects were forged. It is not something that is typical of us, but it has happened to other production companies that are very busy in the film market and, now also, in the television market.
He film market is as it is: most of the films they don't just start and work well.
How important is television fiction currently in the core of the Vaca Films business?
At the volume level, although last year was even, this year television is already bigger than cinema. One of the series that we do is practically like making two or three movies. We are immersed in very high-budget fiction with many resources and that makes the balance decline towards the side of television. Also, unfortunately, the film market is as it is: most of the movies just won't boot and run well, and the cinema is becoming a redoubt for the more familiar cinema and for blockbusters. That, together with the fact that the platforms are suing originals in increasing numbers, leads me to think that television will have even more weight in our company. But hey, we'll see how the cinema window improves and if it manages to recover that more adult audience that seems to have left the theaters.
---

Movie theaters: survival or agony?
Where do you think the solution for the survival of film distribution in theaters can go?
The current situation stems from a number of factors, but basically the main thing is that adults have such a great offer at home that going to see a movie in a movie theater must be something very special for them. , and most of the films fail to create that need for the viewer. Before you didn't have 10 video stores in your living room, and now you do. In addition, most of the weeks with very good things, call it series or call it movies. From there, how could we go about getting people to go see our movies? The first thing, making new sufficiently ambitious and attractive proposals enough for them to pay to do it, but that entails very large economic investments by the sector that will never be able to match that made by American studios.
Could the business models of unlimited access to cinema sessions in exchange for a monthly subscription, which have just arrived in Spain, be a solution?
I have my serious doubts that this is going to work and really mean a change, basically because in the United States the famous MoviePass and it didn't work. Afterwards, I am not entirely clear to whom this product is dedicated. People who go to the movies two or three times a month end up leaving more or less the same amount as with the monthly pass. On the other hand, people who are big fans of the cinema use this instrument very well, but these people already went to the cinema: before they used to pay 30 euros a month and now they will go more times paying 18. Yes, they go more times to theaters, but will it generate enough value so that in economic terms what is left to earn from tickets is recovered? I have my doubts, but I hope the pass works. What also has to happen is that the chains are honest with the rest of the operators in the sector, starting with the distributors and ending with the producers so that, if more money is really generated, it will benefit everyone.
we are beginning to finance the movies including in financing launch costs in movie theaters and assuming that they are going to lose anyway.
Do you think that currently a production company like Vaca Films can survive without movie theaters, exploring new ways of distribution through digital distribution platforms?
Yes, of course, undoubtedly. One thing has nothing to do with the other. For us, movie theaters always represented additional value for the financing of films, which was still very juicy when the films had large box offices. Right now, we are in a system in which financing with platforms, television stations and international agents means that you do not have to depend at all on what happens in theaters. What's more, we are beginning to finance the films, including in the financing the costs of launching them in movie theaters and assuming they still lose. The theatrical release fulfills other functions: it is the way to give the film notoriety and that all partners who have participated are satisfied with the product; that everything has a worthy release. That is the current model and in the short term I would tell you that it will continue to be so. Unfortunately, the recovery of the box office for certain types of Spanish films of medium-high level is going to be very difficult.
---

Technology, virtual set and Vaca Films
Vaca Films has several editing stations. How are these spaces used?
The assembly stations were motivated by the tv series volume. The shoots are very long and several stations and people are required to work at the same time. We have three complete stations that we use exclusively for our projects; We do not usually rent them, since it is difficult to balance the times; they are even falling short. If you get into doing television, the equipment pays for itself quickly.
Are you considering expanding your post-production capabilities with a space for color grading?
The issue of color is another matter, since I believe much more in the people behind the machines than in the machines themselves. Color requires very special treatment and we like to work with the best color graders in this country, who are usually in busy studios. Thus, I doubt that we dare to buy colored teams because, although we could do it, what we seek is to work with the best professionals.
We are involved in an initiative with others Galician producers in which we foresee the construction of sets in La Coruña very leading.
For the rest of the technical questions, does Vaca Films still trust external providers?
That's right, but I can say that we are involved in an initiative with other Galician producers in which we foresee the construction of sets in La Coruña, very cutting-edge, including a virtual set.
What are the keys to this project?
This initiative in which we have participated from the beginning includes the construction of a very state-of-the-art virtual set, which already has funds allocated by the Diputación de La Coruña and the government of Spain, through the aid of the Audiovisual Hub, of 7 million euros. Work is already underway on it with a view to having it operational next year. In addition to that, a couple of very large sets of 1500 square meters have also been projected to serve all the shootings that are needed. All these infrastructures will be in the Santa Bárbara Arms Factory, an area five minutes from the center of La Coruña and the city's airport. These state-of-the-art facilities, together with the aid that exists in Galicia to attract filming from abroad, makes the territory even more interesting than it was before.
---
The new television core by Vaca Films
What projects is Vaca Films working on for 2023 and 2024?
We have already released for Netflix infested, an original, in February, and the series up to heaven in the month of March, which is going very well on the platform. A few weeks ago we premiered the feature film destiny and we are in production of a series called clans, which will be shot soon We are also shooting a rather large and ambitious film in Madrid that has not yet been announced. In addition, we are with a documentary series for Prime Video from The boys' circus, a project directed by Elías León Siminiani. In summer, we will open a past ahead, a family movie of those that still works in the cinema [laughs]. And, besides, we are working on three or four movies, and some more series, for next year.
In the near future, will Vaca Films become more of a serial than a film production company?
I believe that we will continue to combine the two things, although it is true that series interest us more and more, because we really like doing them, because of the narrative they allow us to develop and because we have partners and platforms with which we work very comfortably. So, it is very difficult for me to see which way the balance will tip, because, just as I told you years ago that we will always make more cinema and films than television, the reality is that today adult narratives are more on television than in cinema. Also, I'm sure we'll make a lot of movies too, but for television. For now, we will continue to focus on making projects that we are passionate about, that we like and that are worth dedicating to. two, three or four years of our life.
An interview with Sergio Julián Gómez
Did you like this article?
subscribe to our RSS feed and you will not miss anything.
Other articles on Vaca Movies